PROJECT DURATION: 1. 11. 2021 – 31. 12. 2022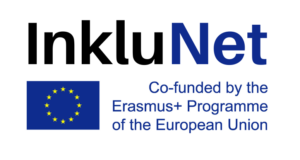 The Inklucentrum is starting its first Erasmus+ project by collaborating in a small partnership with the organization Inclusion in Berlin. Our joint project is called "New dimension and network of inclusive education" – InkluNET. In it, we will exchange our experiences on the topic of inclusive education in schools in Slovakia and Germany.
Key themes
Artephiletics
Morning circles
School support team
Mixed-grade classrooms
Non-violent communication
Crisis intervention
Group facilitative learning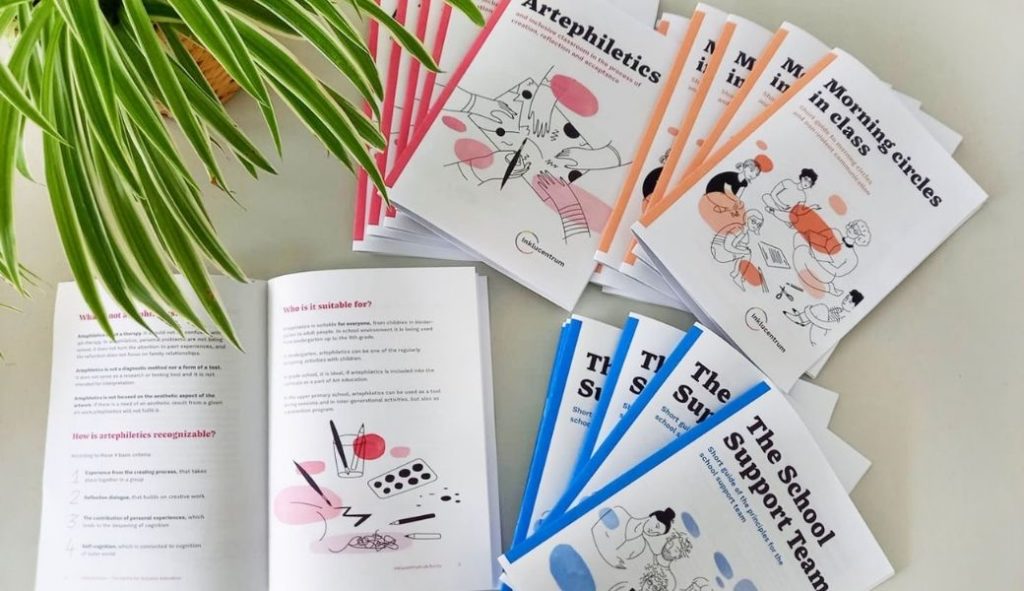 In themes we produced educational videos and published brochures. All videos are available with subtitles in DE/SK on YouTube channel.
Our activities
STUDY VISITS
On 16th and 17th May 2022 colleques from the Inklucentrum visited the Picasso Primary School and the Evangelische Schule Berlin Zentrum. We were interested in how inclusive teaching in mixed-grade classes is implemented, in these two schools in grades 1-3 and 7-9.
We went home fulfilled and with a clear mission: in the future, we would like to build an inclusive school in Bratislava and gradually introduce mixed-grade learning there.
We are very grateful that the teachers and school administrators in both schools in Berlin took time for discussions and allowed their Slovakian colleagues to observe them in their classrooms. We had a special meeting with the former headmaster of Picasso Primary School, Michael Verworn. After the fall of communism in 1990, he already had the vision of a school for all and built it up with a lot of commitment.
Thanks to all who make this valuable exchange possible!
During the visit, we made video recordings in class at the Picasso Primary School and spoke with the headmaster of the Evangelische Schule Berlin Zentrum. The video recordings were used to create short films during the project.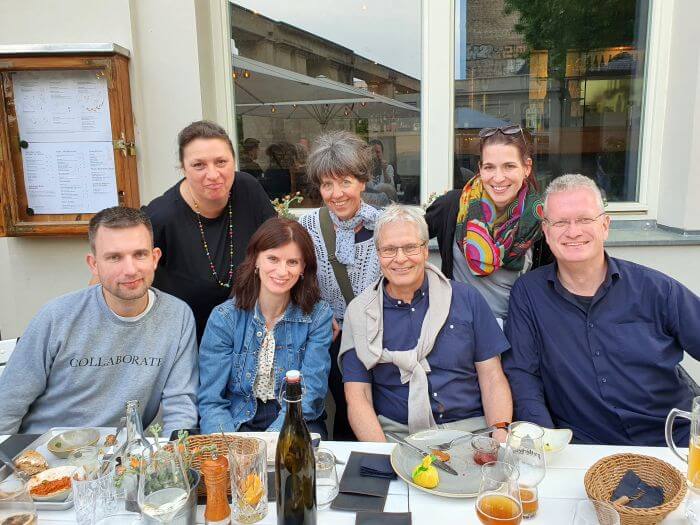 VIDEOS
Experts in both inclusion and the Inklucentre are practitioners who have been working directly in the field for years. We will therefore present their approaches to the general public through short videos.
They will serve educators well as inspiration for their own practice or as a small guide on how to do it. They will see how differentiated teaching, reflective and facilitative learning or artephyletics or morning circles take place.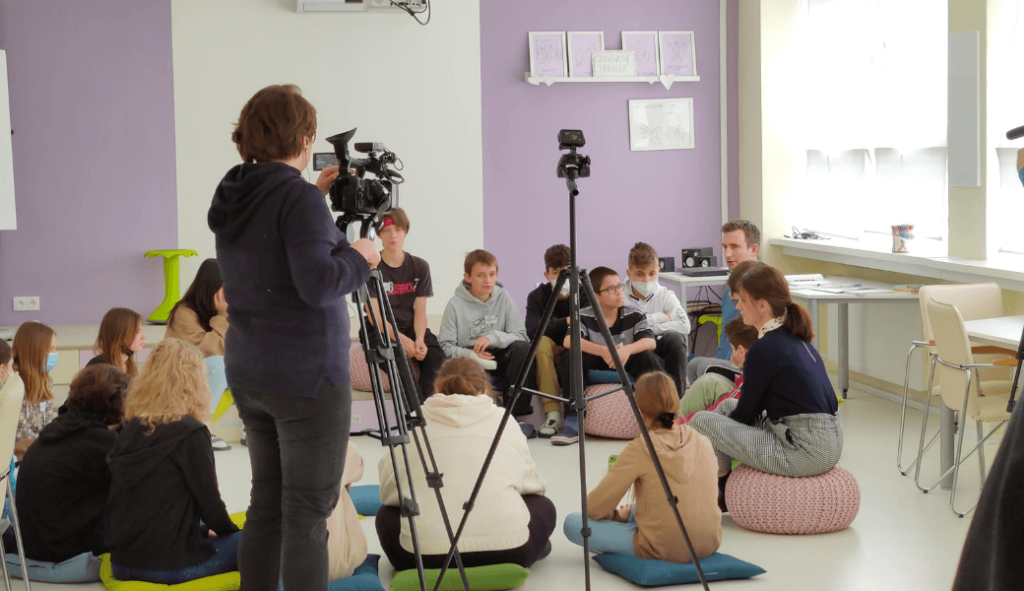 Morning circles in teaching – principles of education and experience
Interview with the principal of the primary school about the "Morning Circles in the Classroom".
Age-mixed learning : principles and experiences
Age-mixed learning through the eyes of the former principal of the Picasso Primary School in Berlin
Artephiletics – principles and experience
Facilitative and reflective learning – principles and experiences

BULLETINS
Authors: Katarína Daneková, Naďa Navarová, Zuzana Krnáčová,
Mária Rothensteinová, Stana Schenck, Jana Randa a Viktor Križo
Authors: Jana Randa a Viktor Križo
Authors: Eva Kúdelová a Viktor Križo
Authors: Zuzana Krnáčová a Viktor Križo
Authors: Mária Anyalaiová, Jana Lednická, Zuzana Krnáčová a Viktor Križo
Authors: Eva Kúdelová a Viktor Križo
WEBINARS
From January to November 2022, we conducted 10 webinars for nearly 200 teachers on the topics of Morning Circles, Group and Facilitative Learning, Nonviolent Communication, Crisis Intervention, Storytelling, Using Multimedia in Storytelling, Social Inclusion and Nazism. We presented our collaborative partnership in a joint final webinar.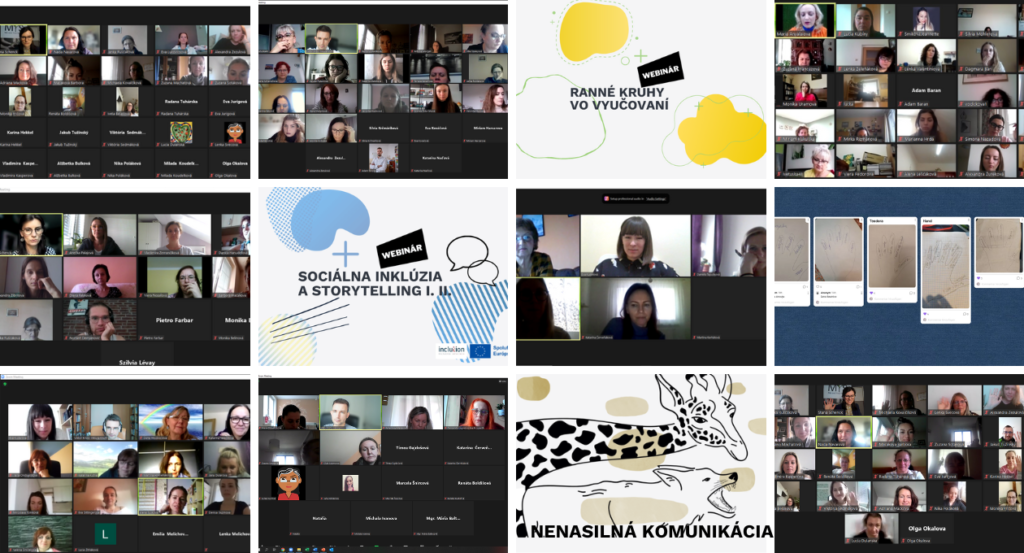 ABOUT PARTNER
Inclution gUG  – is a non-profit organization operating in Berlin in the field of inclusive education, involved in many European projects. They are dedicated to the advocacy of inclusivity in education by raising awareness of the Convention on the Rights of Persons with Disabilities (CRPD) and inclusive approaches (Person-centered thinking) in school administration and legislation and in the fight against segregation. They also focus on the transnational transfer of inclusive practices into schools, e.g. through human rights education for children and youth to the development of storytelling methodology for strengthening social inclusion in schools. They create educational projects about participative processing of the history of Nazism and through the art with young people at schools. The organization is run by experienced parents  Stana and Stefan Schenck. https://www.inclusive-solutions.org/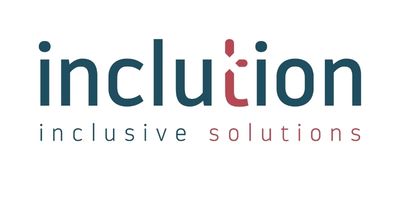 Activities are part of bilateral cooperation of Inklucentre and  inclution.org in  Erasmus+ project InkluNET. Co-founded by European union.